There is nothing more important than maintaining the safety and security of your family. In today's troubling world, having a weapon protected by the 2nd amendment is one of the best tools to fend off would be criminals. A gun safe is one of the best ways to store and maintain a weapons arsenal while still giving you quick access in an emergency. Using a reliable gun safe to store your weapons can give you additional safety by preventing unauthorized access to your weapons at all times.
At Acme Lock and Safe we stock dozens of American-made high-quality gun safes. We have large vaults that can carry 24 or more rifles all the way to a desk drawer hand gun safe that can fit safely in a night stand for quick access. Most gun safes Acme Lock stocks, have lifetime warranties and can provide fire and burglary protection. We carry only the best American-made second amendment protecting gun safes in the industry. You'll be able to keep your family safe using one or more of these safes in the home, with the ability to keep your weapons safe from natural disasters, fires, and more.
Benefits of Getting a Gun Safe in Cincinnati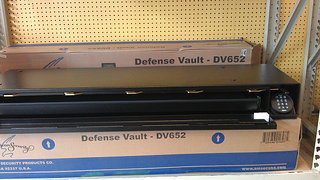 Why would I need a gun safe? First, we need to cover the obvious. Children. Nothing can be more tragic than reading in the newspaper about an accidental shooting because a child found their parents' weapon. The safes we sell in Cincinnati can be used for storage of rifles, hand guns, jewelry, ammunition and more. If having one weapon is all that is required then purchasing a biometric handgun safe that easily fits and mounts into a drawer would be ideal. Children would be hampered from getting into it because of the customizable password you create. AMSEC now offers an under the bed shotgun safe that can mount on the floor and has an easy to open digital combination that keeps children out but keeps your number 1 intruder deterrent within arms length while you sleep. You will never need to feel vulnerable with one or more of our safes installed wherever is most convenient for you.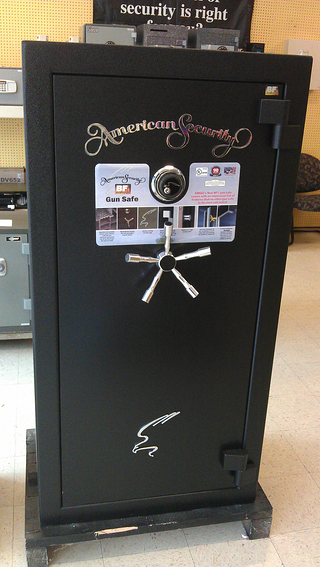 The second reason you need a gun safe is to help keep your weapons protected from the harshness of the environment. Many gun safes come with gel packs or silicone packs that limit the amount of moisture inside. If you are a gun collector and looking for greater protection, Acme Lock now offers dehumidifiers for the inside of your safe. You'll be able to protect your guns from high humidity levels using this feature in addition to fire protection and more.
Third, guns and ammo are a top target of thieves and having a safe that can weigh up to 1000lbs. can help protect your precious belongings. If a safe of that size isn't needed, most safes offer the ability to mount into a floor or wall using anchors. Its an easy install that Acme Lock and Safe can do virtually anywhere. Concrete to wall studs, it's usually a 30 minute install and very affordable. We'll make sure that each safe is conveniently installed in your home without detracting from any other part of the home, wherever you want the safe.
You won't need to worry about your family being unprotected or your possessions being at risk of falling in the wrong hands when you purchase a gun safe in Cincinnati from Acme Lock. We'll help you select the perfect gun safe for your home and weapons for maximum protection and safety.
Get a Cincinnati Gun Safe Today
Attached are some pictures of gun safes and general burglary safes Acme Lock stocks. We service, open and install virtually any safe. Stop in to our huge safe showroom in Covington Kentucky. We stock more than 100 safes and can order safes to cater to any need.
If you would like to buy a Cincinnati gun safe today, visit us and we'll work with you to choose the right safe for you. You can also learn more about the many other products and services we offer.