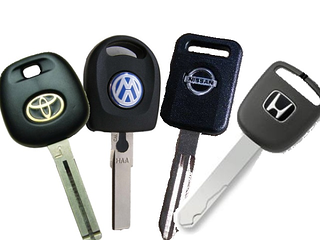 Today, even the most basic models of vehicles are moving towards high tech security keys. With the increase in security also comes an increase in price. Typically most dealers charge nearly $125 for a key to be made and it only goes up from there. That's why Acme Lock chose to invest in some of the most expensive car key making tools to help ease the burden of cost to the consumer.
We'll make sure you get access to your vehicle as soon as possible, providing you with new keys that work as well and last as long as your original keys without needing to wait for the dealer to provide them for you. We'll keep our services affordable while making sure you're back on the road in no time.
Reliable Car Locksmiths in Cincinnati
At Acme Lock, out car locksmiths are trained in everything from generating car keys for late model vehicles to programming FOB and high security keys to the newest vehicles out there. Just the equipment alone to handle this type of skill cost nearly $10,000 and each year, the equipment needs to be updated at a cost of $1,500+. We know that in order to save the customer, we need to make lots of keys and that's exactly what we do. We are AAA Automotive Clubs premier provider of key services for lost, damaged or stolen keys. When someone in Cincinnati or Northern Kentucky lose their keys, it can cost upwards of $300 to $400 to make a new key. Our prices typically are 40% less than the comparable dealer and we come out to your car to complete the work vs. the dealer who requires you to have the car towed to their facility.
A car locksmith is someone who can not only make new keys but also replace ignitions, replace steering columns, open locked out cars, and rekey locks when keys are stolen. Acme Lock trains our 14 locksmiths extensively to provide quick and accurate service. Below is a comprehensive listing of our services plus some additional pictures of the types of keys that we can make. We also make car remote controls as well as program keys the customer brings in to our 2 tri-state locksmith locations in Cincinnati and in Covington. You'll be able to get all of the products you need to gain access to your vehicle as soon as possible to avoid frustration. We offer a host of services to keep you satisfied when you turn to Acme Lock for all of your automotive locksmith needs.
Lock Outs

Ignition repair and replacement

High Security Keys

Transponder Keys

VATS Keys

Standard Car Keys

Truck Keys

Motorcycle Keys

Car Remotes
Get Car Locksmith Service in Cincinnati Today
If you want to get the best locksmith service in Cincinnati or other services from Acme Lock, you can request service from us at any time and we'll work with you to provide service wherever you are. You can also visit our store to get key replacements in a timely manner along with many other hardware products. We have everything you need to make sure you're satisfied every time you turn to us for locksmith services and more.
We service and sell keys for basically all makes and models. A few select models are dealer only keys.