With the Connecticut shooting on the front page of nearly every news medium, it has become more apparent to adequately safeguard your weapons. Gun Safes come in all shapes and sizes. Some gun safes are small enough to fit into your nightstand and as large as a full size refrigerator, capable of fitting more than 64 long guns.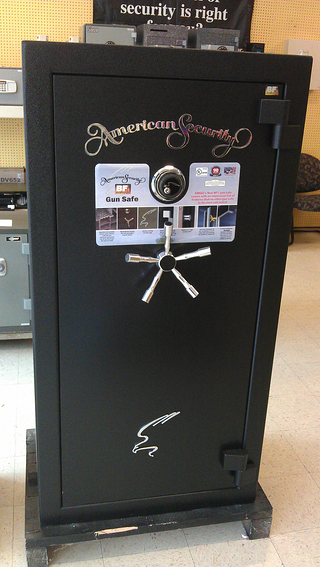 Gun Safes at Acme Lock, are rated as Good, Better, Best.
Our "Good" Gun Safes carry a medium grade guarge of steel with heavy duty bolts and offer between 20 and 40 minutes of fire protection. Gun Safes in the "Good" category range in price between $695 to $1895. Typical brands in this category include Gardall, AMSEC, Cannon and Big Horn
Our "Better" Gun Safes category add additional fire protection, a heavier guage of steel and include heavy duty bolts and relockers to prevent theft and tampering. We carry AMSEC and Gardall safes and both are typically made in America. Prices range from $1295 to $2995.
Our "Best" Gun Safes give extreme protection from both fire and burglary. Some gun safe models even carry the TL30 x6 designation which is the top of the line steel and carbide matrix hardplate throughout the safe. Its a burglars worst nightmare to get into and works well for important documents and jewelry. These safes can range from $4,000 to $9,995.
At Acme Lock and Safe, we pride ourselves in carrying only the top brands mostly made in America. Our safe technicians also can open any safe even without a combination. Don't just buy a safe because it's a good deal....buy it from someone you can trust. Someone who both knows the best safes but also how to service them.