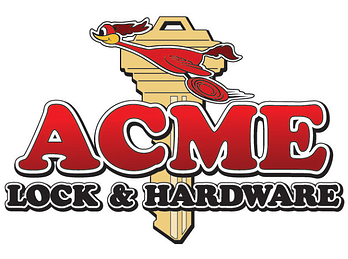 If your home, business, or job is located near the heart of Downtown Cincinnati, you probably don't want to fight suburban traffic just to buy the hardware you need. You shouldn't have to.
When you need paint, cleaning supplies, pest control, tools, security products, a locksmith, or anything else you'd buy from a hardware store in Cincinnati, you could hop onto I-75 or I-71 and waste your timeand your gas traveling to a suburban strip mall. But wouldn't you really prefer to shop at an in-town hardware store that has everything you need?
Everything you need
When you live, work or spend time in Downtown Cincinnati, you already know that you can find whatever you need if you know where to look. Once you step inside Acme Lock and Hardware's 925 Main St. location, you'll understand exactly what that means.
The shop is small, but with over 10,000 items in stock, you'll find hardware for all of your residential and commercial needs. Acme is a Trustworthy Hardware store. That connection provides access to an extensive catalog of products. If you can't find what you need on the shelf, just tell Sharon, Acme's Hardware Specialist. She'll order it and have it to you by the following Tuesday.
Security for your business
If you operate a business-- either Downtown or anywhere in Cincinnati-- you have special security needs. Acme Lock and Hardware can fill those needs by providing all of the products and services you require. As the name implies, we sell Locks, but that's just the beginning.
Acme is the largest commercial locksmith service in Cincinnati and Northern Kentucky. Our team of dedicated professionals gives us the capacity to sell and service all of the products you need for safety and security.
We know that premises security is important to every business owner's peace of mind, so we sell and service steel doors, security gates, automatic door openers, security glass, Herculite doors, commercial doors, door frames and much more. At Acme Lock and Hardware we stay current with the latest access control technology such as video intercoms, surveillance systems, delayed egress units, and other security products for large and small businesses operations.
Secure storage for valuables
If your business security plan calls for a safe, Acme Lock and Hardware will sell, install and service any make, model or size you choose. We sell, install and service floor, wall, drop or rotary hopper safes. We also offer round door money chests, gun and pistol safes, timer safes, vaults and styles with manual, digital, and biometric combination options, and safes with features customized for your business.
Downtown Cincinnati and beyond since 1933
We think it's important for you to know that Acme Lock and Hardware has been in business since 1933. That's 90 years of providing our Greater Cincinnati residential and commercial hardware customers with the products they need and the services they want. We've worked hard to earn their trust, and we'll do the same for you.
If you live in Northern Kentucky and don't want to make the trip across the river, you'll find the same great products and services at the Covington, Kentucky location at 815 Madison Ave.
Contact us the next time you need a hardware store in Cincinnati.